Point of Sale Inventory Scanners & Mobile Computers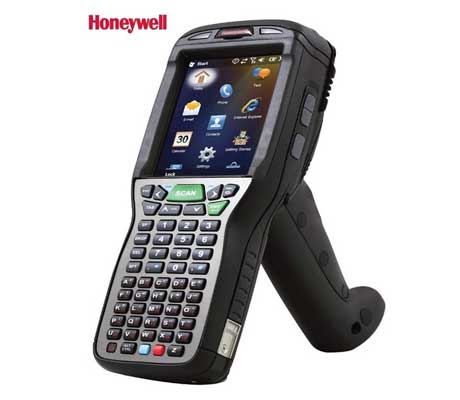 DOLPHIN 99GX MOBILE COMPUTER
Honeywell's Dolphin 99GX mobile computer with an integrated handle provides userfriendly ergonomics, cutting-edge wireless technology, multi-functional data capture and extreme durability for front-line workers operating in a variety of locations ranging from loading docks to front line retail.
The reliable and intuitive Dolphin 99GX delivers an outstanding feature set that enables improved productivity for mobile workers. Integrated Shift-PLUS™ technology provides all day battery life, minimizing the time and expense incurred when batteries need to be charged or replaced.
The Dolphin 99GX is IP64-rated and can withstand multiple 6 feet (1.8 meters) drops to concrete, ensuring years of trouble-free operation.
ZEBRA MT2000 MOBILE TERMINAL
The MT2000 Series combines the simplicity of a scanner with the intelligence of a mobile computer, providing advanced 1D/2D bar code, DPM and image capture, as well as the ability to key in and view data.
802.11a/b/g, Bluetooth, corded and batch connectivity options provide the flexibility to meet a wide range of applications, and the ergonomic yet rugged design offers comfortable, reliable operation throughout your environment.
MT2000 Mobile Terminal Features
Comprehensive connectivity options — including wireless, cordless and corded
Comprehensive data capture options — 1D, 2D, image capture, EAS
Superior 1D laser scanning technology
A new standard for 2D imaging
Windows CE 5.0 operating system
Forward-scanning pistol grip
Rugged design
High resolution high contrast color QVGA display
21-key enhanced keypad
Multiple indicators: beeper mode, pager mode and LEDs
Optional hands-free Intellistand